11 Delicious Japanese Fast Food Chain Restaurants!
Japan has plenty of fast food restaurant chains for various types of food. If you want to save money on your food but still want to have something Japanese, Japanese fast food chains are the best option.
There are globally famous fast food chains like McDonald's or Subways, but it would be a good idea to try ones that you can find only in Japan.
1. Yoshinoya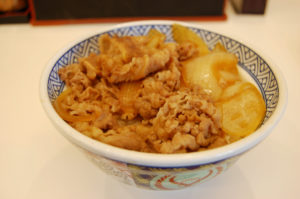 Yoshinoya is one of the largest gyudon (beef rice bowl) restaurants in Japan. You will find Yoshinoya anywhere in Japan especially near train stations with a quite recognizable bright orange sign. Other than gyudon, varieties of rice bowl menus are offered, such as butadon (pork rice bowl), curry, and unaju (broiled conger eel and rice served in a lacquered box-like container). Also, Yoshinoya offers teishoku, which comes with the main (a dish using pork, beef, and fish), rice, and miso soup. Breakfast menus are available from 4 am to 11 am with plenty of options to choose from.
Yoshinoya is popular among all kinds of people, especially working men. Shops are filled with white collar and blue collar workers during lunch hours. But on weekends families with small kids come for family lunch.
Most Yoshinoya are open 24/7, and all the menus are under 1000 yen ($9), so if you are looking for a place to eat with low price, remember Yoshinoya.
2. Sukiya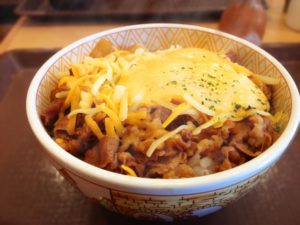 Sukiya is also a popular gyudon chain restaurant in Japan with 2000 branches across Japan. Sukiya is famous for a wide variety of gyudon: it offers nine kinds of gyudon, such as cheese gyudon, kimchi gyudon, negitama (green onion and egg) gyudon, and so on. Toppings are available so you can customize your gyudon as your preference. Like Yoshinoya, not only does it offer gyudon, but also it offers butadon, seafood rice bowls, teishoku, curry, and desserts.
While Yoshinoya is favored by working men, Sukiya is more family-oriented with the large space and the relaxing atmosphere. You will find Sukiya not only near train stations but also food courts at shopping malls.
3. MOS Burger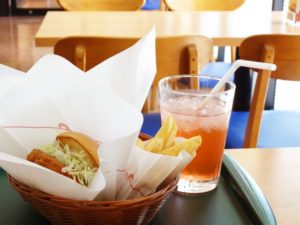 Mos Burger is one of the burger chains that was originated in Japan, the second largest hamburger chain after McDonald's. MOS Burger uses fresh vegetables in its burgers and they make food (like grilling the patty and buns) after taking customers' orders, which is the biggest difference from McDonald's and the strongest appealing point to MOS Burger fans. The most popular burger at MOS Burger, "Mos burger" is amazingly delicious with a slice of fresh tomato, minced onions, and the special tomato-based sauce. If you try MOS Burger for the first time, Mos burger should be the one you order.
MOS Burger offers other items that you cannot get at other burger chains such as rice burgers (buns are made of rice). Mos chicken and desserts are also a must-try. Mos chicken is deep-fried chicken, but it is seasoned with soy sauce which makes it a completely different fried chicken from what you eat in other parts of the world. Desserts at MOS Burger are also Japanese-influenced, such as brown rice flakes shake with green tea and azuki (sweet red beans) flavor.
It will be an interesting experience to eat Japanese-influenced hamburgers!
4. Freshness Burger
Freshness Burger is a growing burger chain restaurant in Japan. Although it is a fast food joint, it is not a normal fast food chain. It uses fresh ingredients and staffs cook food after taking orders. The price is higher than other burger chains (its signature "Classic burger"=450 yen+tax) but considering the quality of food, it worths a pay.
Freshness Burger offers a large selection of drinks, which is one of the reasons why it is quite different from other burger chains. It has several kinds of coffee and tea, homemade lemonade and ginger ale, and homemade fresh smoothies. Surprisingly, all the drinks are served with a cup or a glass! Not with a cup made from paper that you usually get at fast food chains! With a delicious, fresh burger and a sophisticated drink, you will feel you are at a cafe.
5. Coco Ichibanya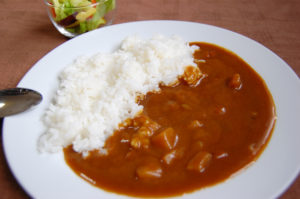 Coco Ichibanya is a chain restaurant that specializes in Japanese curry. In fact, Japanese curry is different from Indian curry and is one of the most common dishes that are served at home. The curry is served on the rice.
Coco Ichibanya offers a vast choice of curry with different ingredients and toppings, like different kinds of meat cutlets (pork, beef, chicken), vegetables, seafood, egg, and so on. You can also choose the amount of rice and the level of spiciness/sweetness. It is fun to customize your own curry!
6. Korakuen
One of the most worldwide famous Japanese food would be ramen, so why not trying ramen in Japan with low price? Korakuen is the most popular ramen chain in Japan, offering several kinds of ramen with reasonable price. It has shoyu (soy sauce), miso, shio (salt)-based ramen with different kinds of toppings, and the food is available from 390 +tax yen! Each branch of Korakuen is spacious and offers both counters and booths, which creates a cozy atmosphere and a nice place to eat with the family.
7. Marugame Seimen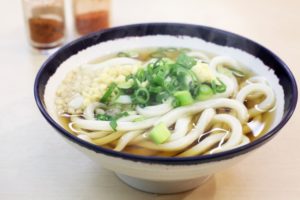 If you are looking for a nice udon place, Marugame Seimen is a great choice. It offers udon with a quite low price, for example, Kamaage udon costs only 290 yen. But don't doubt the quality. The udon is cooked in the shop and served quickly, so you can have fresh, hot, delicious udon. Additional items such as tempura and onigiri (rice balls) are available, so pick whatever tempts you to go with your udon. Of course, tempura and onigiri are freshly made in the kitchen at the shop! Marugame Seimen is an excellent place to eat for both an individual customer and groups, with counters and booths.
8. Kurazushi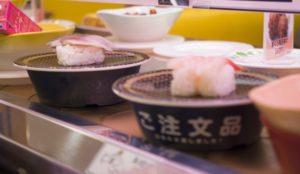 Kurazushi is a leading conveyor-belt 100 yen sushi restaurant. Although it is a sushi restaurant, other types of food are offered with an astonishingly wide variety. If you don't like raw fish, don't worry. The sushi menus include cooked fish or cooked meat on the rice, and not only does it serve sushi, but it also serves deep-fried items such as french fries and onion rings, ramen, udon, curry, and desserts. Low-carb items such as ramen without noodles and sushi with the rice substituted for vegetables are available.
If you are worried about the communication with staffs, don't worry about it, either. You can pick items directly from the conveyer-belt, and if something you want is not on the belt, you can order it with the touch panel attached to each table. The touch panel offers English, Chinese, and Korean language options.
9. Tenya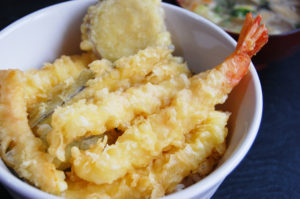 Tenya is a chain restaurant which serves tempura and tendon. Tendon is a type of rice bowl dish composed of tempura atop a bowl of rice with a little sweet soy sauce-based sauce called tentsuyu. Tempura and tendon are usually expensive and served at traditional Japanese restaurants, so if you want to try them casually, Tenya is the best place. You can enjoy nice and hot tendon with freshly fried tempura under 1000 yen.
10. Tsukiji Gindako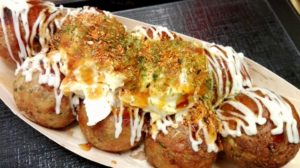 Tsukiji Gindako is a takoyaki chain restaurant located all across Japan. Takoyaki is small dough balls cooked so as to be crispy on the outside and creamy on the inside, with a chunk of octopus inside. They are eaten with a little spicy sauce, bonito flakes, aonori (dried seaweed flakes), and mayonnaise.
Gindako offers varieties of takoyaki menus with various toppings such as negidako (green onions), cheese mentaiko (cheese and spicy cod roes), teritama (teriyaki sauce and egg), and seasonally limited versions. With 550 yen, you can get eight balls of takoyaki, which is enough to fill your empty stomach but you can double the pieces with additional 500 yen. You can find Gindako at train stations and food courts, and you can see staffs making takoyaki!
11. Mister Donut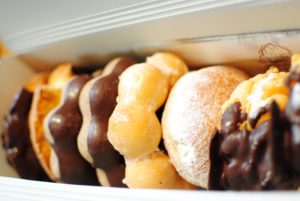 Mister Donut, established in Boston in the States but only one shop remaining, is the biggest donut chain in Japan with over 1,300 locations nationwide. It has a wide selection of donut at a low price, and you can get different kinds of donuts you cannot find in the world. One of their top sales is "Pon de ring," which is a type of glazed donut with a doughy texture like mochi. It comes in several flavors like strawberries, chocolate, kinako, and so on.
Another popular product is "French cruller" which has a soft texture and whipped cream sandwiched. It also offers savory items like pies, ramen, and Chinese steamed pork buns. So you can stop by Mister Donut not only for snacking but also having lunch or dinner.
Enjoy Your Dining at Delicious Japanese Fast Food Chains!
You can find fast food restaurants introduced above anywhere in Japan. Japanese fast food chains offer you with a cheap, great dining experience. If you want to eat out at the low price, remember these places!