Let's learn about Japanese Seifuku (School Uniform)!
Japanese school uniform is known for its fashionable appearance. Most schools in Japan have their uniforms, and the design varies depending on the school.
For Japanese students, school uniform is not only for showing which school a person belongs to. It has become one of the fashion items due to the change of school uniform designs and fashion trends. Many Japanese school girls add accessories to their uniform to express their originality.
Now, you will see how Japanese school uniform has been developed and changed over time, and how Japanese students enjoy their uniforms as fashion.
History of Japanese School Uniform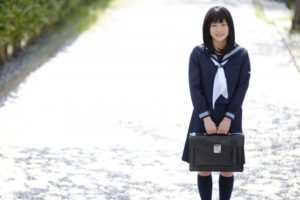 School uniform was firstly introduced in the late 19th century.
The first school uniform called sailor fuku was inspired by the European naval uniforms. Japanese took the idea of scaled-down sailor suits of royal families in Europe, and many Japanese would see them cute because they might have evoked the Western-style children's outfits rather than the navy gear.
Sailor fuku was easily adapted to Japanese schools due to its facility to sew. Many schools gave sewing school uniforms as an assignment of home economics class up until the 1950s, so Japanese students made the uniform on their own.
In the 1960s, given the critics about the school uniforms, that monotonously, simply designed uniforms would degrade the originality of each student, and that the sailor fuku would be associated with the military wear, some schools started to make the uniforms more fashionable or abandoned school uniform.
It became common, in the 1980s, to introduce school uniforms with unique design and a variety of colors particularly in private schools. Some schools allowed students to customize the uniform with accessories. Stylish school uniforms lead to the increase the number of candidates to the school.
After 1990s, school uniforms came to be recognized not just as "uniform", but as "fashion". Students, mostly girls wore uniforms even when they hang out with friends. Nanchatte seifuku, which means wearing uniforms of different schools, also became popular among students.
The "fashionalization" of Japanese school uniform caught eyes from all around the world, and there are many online shops where you can buy Japanese style school uniforms.
8 Different Types of Japanese School Uniforms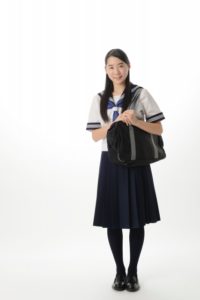 Japanese school uniform has a wide range of types. Each school has its uniform, usually its school symbol on. Uniforms in private schools tend to have fashionable designs while those in public schools tend to have simple designs.
Most schools have two types of uniforms: one for summer, the other for winter. The length of sleeves and fabric are adjusted according to the season.
1.Sailor uniform
Sailor uniform is an initial design of Japanese school uniform for female students, inspired by the naval uniform. It consists of a blouse with a sailor-like collar and pleated skirt. Accessories such as ribbon, necktie, or bow are tied around the collar. Not many schools have adopted this type of uniform recently, but it is still the main stream of school uniform design among Japanese schools.
2.Gakuran uniform
Gakuran, characterized by the Tsume eri (standing collar) is a common uniform among male students. The color is usually black, but some schools use navy blue.
Gakuran was derived from the Prussian cadet uniform, and the name Gakuran is a combination of the words Gaku (学)and Ran(蘭), Gaku meaning "study", and ran meaning "Netherland" or historically in Japan, the West in general.
3.Blazer uniform
Blazer uniform is a relatively new style of school uniform compared to the other uniform, and it is often introduced when the school changes the uniform design. It is mostly worn by female students, and it is common to add ribbons or ties when wearing the blazer. In wintertime, they wear knit sweater or vest under the blazer.
4.Bolero uniform
Few schools have the bolero uniform today. It is usually worn with the jumper skirt.
5.Eton jacket uniform
Eton jacket is a jacket without a collar, and is often introduced to elementary school or junior high school. The name of "Eton" was from Eton Collage in England.
6.Jumper skirt uniform
Jumper skirt used to be the main stream of school uniform in the summertime, but it is replaced with the other style when the school changes the uniform. In winter, jumper skirt is worn under the blazer or the bolero.
7.Suspender skirt uniform
Suspender skirt school uniform is usually worn in elementary school, sometimes in kindergarten.
8.One-piece uniform
One-piece (dress style) uniform is a minor type of uniform among Japanese schools. It is worn with a blouse in the wintertime.
School Uniforms as Fashion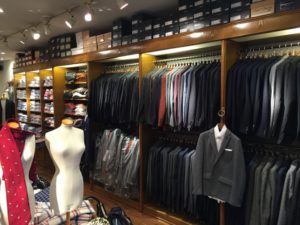 Today school uniform is worn not only to show which school a person goes to, but to use as fashion items as a means of expressing the individual's personality. Some schools require students to buy only blazers and school pins designated by the school so that students can choose the other items such as socks, shoes, ribbons, bags, etc.
Also, it is not unusual for Japanese teenagers, especially female students to dress themselves in school uniform-like outfit when hanging out with friends.
Sometimes they don't wear their school uniforms, but wear uniforms that they bought in different shops.
It is called "Nanchatte seifuku."
Apparel brands such as East boy and Conomi offer a wide variety of optional items for school uniforms.
The followings are the list of items which students can usually choose on their own. Here you will see school uniform in Japan is no longer "uniform"!!
Knit cardigans and vests
Many students put on knit cardigans or vests under the jacket in the wintertime, so cardigans and vests are the ones which students can show off the individuality in winter.
Color variations exist: camel, white, grey, navy, pink, yellow, sky blue, etc., but the most common ones are camel and grey.
Socks
Socks worn along with school uniform are usually black/navy or white, with the length below the knee. Some schools have strict rules on the length and color of socks, but most schools allow students to buy them on students' preferences.
Socks sold at shops almost always have a one-point stitch, to add a little piece of cuteness.
The trend of socks have changed over the decades; about 20 years ago, loose socks, a type of baggy sock gained the popularity among Japanese female high schooler, which was often associated with the symbol of revolving against the strict rules of the school. The most common length of the socks was just below the knee ten years ago, but the recent trend is short-length socks.
Shoes
Most students wear loafers, usually in black or dark brown, while some people wear sneakers. Loafers in the recent collection have heels so that girls have better proportions.
Ribbon and ties
Many female students put ribbons or ties around the collar. Ribbons and ties are the typical items which can easily express the personal taste. Girls usually have two or more variations of ribbons and ties, changing them from day to day, depending on the mood.
The variations are overwhelming-from the shape to the color; apparel shops offer the vast kinds of ribbons and ties. Students enjoy picking their favorite ones at the shop.
School bags
Some schools have their own bags, but most of the case students can use whichever bags they want. Typical school bag in Japan is a handbag-type, made out of nylon or leather. Those who do sports may use enamel bags, and other students use backpacks.
Students decorate their bags with keychains or other accessories, which is one of the ways to show their individuality.
Is school uniform in Japan really a uniform?
Now you have probably got the idea about why Japanese school uniform has become outstanding worldwide.
School uniform in Japan has changed its forms and meaning overtime, and it has transformed from "uniform" into one of the fashion items which exhibit the personality. Choosing the favorite items at the shop, and changing the uniform from day to day is a lot of fun. It is just the same as choosing the outfit of the day. This aspect of school uniform makes the memories of school valuable and unforgettable.
Now, it is your turn. Why don't you find your favorite style of Japanese school uniform?
See you next time!