Ideas for What to Buy in Tokyo
Tokyo is just a small part of Japan, but it is where various faces of Japan are concentrated. So, you can get souvenirs in a diverse variety from traditional items to modern, trendy items. Below we listed things to get in Tokyo that either you can take back home or you can eat on the spot. If you are planning to visit Tokyo, be sure to check this list!
If you will visit other parts of Japan, be sure to check souvenir ideas from Japan!
What to buy at Tokyo Station
What to buy at Asakusa
What to buy at Tokyo Skytree
What to buy at Harajuku
What to buy at Tokyo Station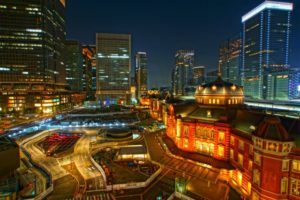 If you are visiting Tokyo, you will be likely to get to Tokyo station, which is located at the center of the city and is a hub to connect all the districts of Tokyo and Japan. In fact, Tokyo station is one of the best places to souvenirs in Tokyo, especially sweets. Such a large station, there are hundreds of stores selling sweets and goods that suit all tastes. It will be a good shopping spot when you want to buy gifts or souvenirs for your family, friends, and yourself.
-Tokyo Banana
Tokyo Banana is an absolute famous and popular sweet from Tokyo. It is a banana-shaped sponge cake with banana-flavored custard cream inside. There are several varieties in flavors and appearances, such as caramel banana flavor. Also, aside from banana cream-filled cakes, they sell baumkuchen, cookies, Kit Kats, brownies, etc., and all banana-flavored.
You can get Tokyo Banana other places in Tokyo, but they usually have fewer varieties. So, if you want to try this treat, you should buy at Tokyo station!
-Hiyoko: Tokyo Hiyoko

Hiyoko is a small, chick-shaped sweet with a filling made out of white bean paste inside. They also sell chick-shaped baked sweet potatoes and chick-shaped cookies, and as a seasonally limited edition, they have released chick-shaped jelly.
You can get Hiyoko at tourist shops or department stores, but what's special about buying it in Tokyo station is that they tend to have larger varieties. You can find this sweet both at the south and central exits.
-Oeuf Pudding: Quatre
Do you want a surprise in your gift? Then, go for Ufu Pudding from Quatre.
What's unique about this pudding is that it is served in an actual eggshell! What's more, the pudding is packed in a box that resembles the real egg carton. The pudding has a rich taste and smooth texture, and the sauce at the bottom makes the pudding even richer. They come in various flavors, including plain, strawberry, chocolate, and seasonally limited flavors.
-Tokyo Kaminariya
Tokyo Kaminariya is a cone-shaped langue de chat cookie filled with fluffy cream, caramelized sesame and crushed nuts sprinkled on top. The motif of this sweet is the hones of the God of thunder. Remember that this sweet can be bought only at Tokyo station!
The sweet is individually packaged and sold in a set of 8, 12, and 16, so it is good to share with a small group. The shop is located at Keiyo street, where other popular sweets are gathered.
-Gumitzel: Hitotsubu Kanro
Gumitzel is a gummy candy with a crunchy texture on the outside. It has a pletzel-like appearance, and there are several flavors including cider, coke, apple, grape, grapefruits, and pear. The colorful candies are visually appealing. You will be amazed at the unique texture of the candy!
The shop is located in the Gransta area.
-Animal cupcakes: Fairycake Fair
Fairycake Fair sells cupcakes and biscuits freshly baked at the shop every morning, and located at the Gransta section. They have some seats for you to enjoy their baked items on the spot, but you can also box up the items to take back home.
What you should check out at this shop is cupcakes with cute animal-like decorations such as panda and pig. They are too cute to eat!
-Imo Yokan and Anko Dama: Funawa
Funawa is famous for its delicious Imo Yokan and Anko Dama. Usually, yokan is a rectangular brick-shaped Japanese sweet made from red beans, but imo yokan is made of delicious sweet potatoes! It has a sweet flavor and smooth texture. Anko Dama is a bean paste ball that has a colorful appearance and different flavors. Each ball is coated with thin layer of agar. You can buy these two products individually, but you can also get a pack of these two sweets.
-Crispy Chocolat: Morozoff
A famous confectionery company founded in Kobe, Morozoff sells a chocolate snack available only in Tokyo station. It has a white chocolate-covered cereal with a raspberry flavor. Not only does it have cute packaging, but also it has exactly the same look of Tokyo station.
There are several branches in Tokyo station, but the one at south exit has the largest varieties.
-New York Perfect Cheese
Newly opened in 2017, it is a sweets shop that specializes in cheese-flavored sweets. The best seller is New York Perfect Cheese, which has a cream cheese white chocolate and fluffy cream wrapped in a gouda cheese-flavored langue de chat cookie. If you are a cheese lover, you will definitely love it!
What to buy at Asakusa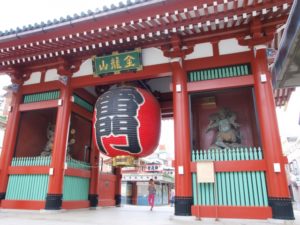 Asakusa is a district located in the north-east of Tokyo. The area is full of shops that sell traditional Japanese goods and local treats. Most of those shops have long rooted in the area, so you can get authentic Japanese gifts here. Some of them cannot be taken back home, but they worth a try if you come to Asakusa.
-Jumbo Melon pan: Kagetsudo
Jumbo Melon pan is literally a big melon bread with thin crispy cookie dough on the top and sweet fluffy bun on the bottom. You may wonder what the differences are between melon pan at convenience stores and Kagetsudo, but they are completely different. Melon pan at Kagetsudo is freshly baked from the oven, nice and warm, and it has a perfect balance of crispy and fluffy texture. Moreover, you can taste the richness coming from the butter way stronger than other melon pan. It costs 200 yen for one and 500 yen for three. It sounds a bit pricey but you will never regret trying it.
-Daigaku Imo: Chibaya
Daigaku Imo is a chunked baked sweet potato with sweet syrup made from sugar. Gently sweet flavor of the syrup and a little savory flavor of baked sweet potato spread all over your mouth once you bite into it. You can't forget this delicious sweet!
-Imo Kintsuba: Mangando
Kintsuba is a Japanese sweet generally made out of red beans. It has a square shape and a thin layer of batter on the outside. Unlike normal kintsuba, Kintsuba from Mangando has a sweet potato flavor as the name "Imo" (=sweet potato) says. You can enjoy it hot from the pan. It comes in a small size, so it is a good treat for a snack or eaten as street food.
-Dorayaki: Kameju
Dorayaki is a Japanese sweet that has two pancakes sandwiching red bean paste in between. Dorayaki from Kameju comes to one of the best souvenirs in Asakusa, so there is no reason for not stopping by this shop. Fluffy pancakes and slightly sweet red bean paste makes a perfect combination!
-Kaminari Okoshi: Kaminari Okoshi Hompo
Kaminari Okoshi is a typical souvenir in Asakusa, which is a snack made of puffed rice. It has a crispy texture and comes in different flavors.
-Ningyo Yaki: Kimuraya
Ningyo Yaki is a small fluffy cake that comes in different shapes such as birds, lamps, or pagodas, and is another typical selection of Asakusa souvenirs. Kimuraya is the oldest ningyo yaki maker in Asakusa founded over 150 years ago. You can enjoy not only trying cakes but also watching the cakes made!
-Tumbler: Tatsummiya
Tatsumiya sells various items that use the Nishijin silk, which is a traditional Japanese fabric. What catches your eyes is tumblers with the Nishijin silk around. They have gorgeous traditional Japanese patterns, and no one tumbler has the same patterns! So, your tumbler is going to be only one in the world!
-Umbrellas: Hokusai Graphic
Hokusai Graphic is a shop that specializes in umbrellas. Their umbrellas have beautiful Japanese-style patterns, which range from classic, traditional ones to modern ones. They offer so many selections of umbrellas that you cannot choose the one!
-Accessories: Shikisaido
Accessories with Japanese motifs can be found at this shop. You can see colorful hair accessories, pierces, and hair bands with a hint of traditional Japanese-ness. You can also get other kinds of products such as plates or purses.
-Japanese-style shoes: Suiren
Suiren is a shop that sells Japanese-style knick-knacks. A recommendation from this shop is traditional Japanese-style shoes. They are all handmade and comfy. They go well not only with traditional Japanese clothing but also ordinary outfits. They are a little pricey (10,000 yen~), but they will be a good gift especially for those who are from warm areas.
-Gamaguchi: Licca
Gamaguchi is a type of Japanese perse that has a uniquely shaped metal mouth instead of a zipper. Licca has a large selection of items from purses to bags, and they come in diverse kinds of colors, patterns, and sizes. The patterns include both traditional and modern one. Fashionable gamaguchi items make your outfit look even more gorgeous!
-Traditional Toys: Asakusa Edoya
If you are interested in traditional Japanese toys, Asakusa Edoya is the right place. It offers conventional Japanese toys including kendama and ohajiki. In addition to these, you can buy traditional Japanese crafts and other items that you can use on a daily basis such as sensu (Japanese-style fan) and furin (wind bell). It is a good place to shop especially when you are looking for gifts for children.
What to buy at Tokyo Skytree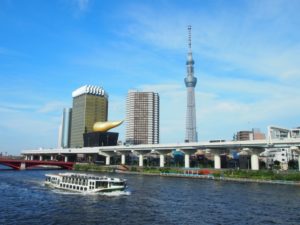 Skytree is a radio tower that is located near Asakusa, and is the tallest tower in the world. The bottom part of this tower is a shopping moll called Tokyo Soramachi, where you can find some Japan-themed goods.
-Kanzashi: Wargo
Kanzashi is a traditional Japanese hair accessory which has a stick-shape and little charms as an accent. It is usually worn with traditional Japanese clothing, but Wargo has a wide variety of designs from traditional to modern, so you can choose one that goes well with your normal outfits.
-Tenugui: Mamegui
Tenugui is a traditional Japanese towel made from cotton and a popular choice for Japanese souvenirs. It comes in different patterns and colors from cool, traditional designs to pop, cute designs. Tenugui from Mamegui offers smaller sized tenugui, and what is special about their tenugui is, it gets an animal or fruit appearance when you wrap a gift with their tenugui. It makes a great gift for cute things lovers!
What to buy at Harajuku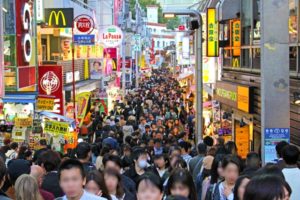 Harajuku is one of the centers of Japanese pop culture. there is a plenty of shops that sell Kawaii goods lined up on a street called Takeshita street, and also all around in Harajuku area. You will see what's on in Japan in this area, and you will have interesting experiences that you could not have in other parts of Japan. If you are interested in cute stuff or you want to immerse yourself in Kawaii culture, you should check out Harajuku.
-Cotton Candy: Totti Candy Factory
Totti Candy Factory, located in the Takeshita street, caters you with a gigantic cotton candy that is way bigger than your face. Their signature is the premium cotton candy. It has a mountain-like shape, and is made out of four different colors that have different flavors accordingly. Shop staffs make cotton candy right in front of you, so make sure to have your video ready to film how it is made!
Although this shop is famous for huge cotton candy, it sells cake pops that have cute animal faces. You can order them at the counter as well.
-Cheese Tart: Pablo
Pablo is a baker shop that specializes in delicious cheese tarts. Their basic cheese tart has a flaky pie crust-like shell on the outside and is baked to medium-rare. The cheese has a rich flavor and creamy texture which really go well with the apricot jam on top. What's more, you can get this delicious tart at only 850 yen ($8)!
There are other variations on their menu: the Pablo nude is another variety of Pablo's cheese tart that is baked to rare, so you eat it with a spoon. Aside from regular cheese tart, Pablo comes out with seasonally limited versions and regionally limited versions. You can get different flavors depending on the season or the location. Other baked items such as mini cheese tarts, cookies, and pudding, all of which use cheese, of course.
-Character Items: Kiddy Land
Kiddy Land has a wide variety of character-themed items. You can find popular characters that originate from Japan such as Rilakkuma, Hello Kitty, and Ghibli, and that originate from other countries but are famous in Japan such as Disney, Peanuts, and Moomin. You may not be able to get manga character-themed items, but if you are a fan of Japanese anime or unique characters, be sure to check out Kiddy Land.
-Kawaii Accessories: Fancy Pocket
Fancy Pocket is a popular store among teenage girls in Japan that offers cute accessories at low price. It has a large assortment of accessories from pierces to rings, and you will be amazed at the wide range of designs. You can get not only fancy-designed accessories that can do with formal occasions but also cute ones that go well with casual outfits. Fancy Pocket also offers a wide selection of items such as T-shirt, stationery, beauty products, and hand-craft items.
-Cheap knick-knacks: Asoko, Awesome Store
Harajuku is the best place to get cheap but good quality knick-knacks. Asoko and Awesome Store are famous among Japanese young women because they have a wide variety of items with stylish designs at the low price. You can get bags, kitchen tools, tableware, bath items, party items, shoes, etc. You will be impressed with the variation of products and the price. More amazingly, most items don't look cheap!
Did you get any ideas for your souvenir or gifts from Tokyo?
We wish you a great shopping experience in Tokyo!